Shufro Rose — a New York City-based independent wealth management firm servicing more than 1,200 clients and $1.5 billion in assets under management as of March 31, 2020 — is located in the epicenter of the financial world. In March of 2020, the firm also found itself located within the epicenter of the COVID-19 outbreak in the United States. The firm immediately shifted to working remotely, relying upon a digital strategy and business process automation that have enabled the firm to operate and service clients seamlessly.
"We had implemented our operational processes in Laserfiche well before the COVID-19 outbreak. Our Laserfiche electronic forms and automated workflows have enabled us to standardize, streamline, and digitize operational functions. Laserfiche Forms and workflows have stood the test of this unexpected transition. Our processes and execution have remained consistent. We did not have to scramble to continue to service our clients and operate our business despite being suddenly displaced from our office."

-Vibhaw Arya, Chief Operating Officer at Shufro, Rose, & Co.
Modernizing Operations through Process Automation
Although Shufro Rose has a firm history dating back over 80 years, the firm has continuously strived to modernize how it operates so that its advisors and client service personnel can remain fully focused on client service.
"Shufro Rose's approach to digital transformation is firmly rooted in its dedication to serving clients," said Zaheer Master, president of Accelerated Information Systems, the solution provider that implemented Laserfiche at Shufro Rose. "The firm's vision and use of Laserfiche has positioned it for success, even in times of dramatic change."
One of the firm's significant Laserfiche initiatives has been to streamline the account opening process. This process originally relied heavily upon manual data entry and manually scanning numerous account documents. Shufro Rose created an electronic account opening form in Laserfiche that captures all client information necessary to open a new account in a consistent digital format. A Laserfiche workflow then automatically routes information to relevant operations and client service personnel for execution and review. Any signatures required for account opening are executed through an integration with DocuSign.
Shufro Rose also automated account maintenance processes using Laserfiche. When a client needs to submit changes — for instance, updating beneficiaries, contact information or standing instructions — client service teams submit the change via a Laserfiche Form, including any necessary documentation and instructions. The firm uses corresponding Laserfiche forms for account closures and money movement processes as well. The firm designed and implemented forms to its unique specifications, requiring mandatory data elements to be provided at the outset, which reduces the occurrence of inefficient back-and-forth iterations to capture missing data.
As information is routed through automated processes, all relevant documents are automatically uploaded, generated, and properly filed within the Laserfiche repository. This enables Shufro Rose to comply with a critical books and records regulation established by the U.S. Securities and Exchange Commission (SEC) for wealth management firms. "We have a full audit trail and documentation of every process executed," Arya said. "Documents are stored in a WORM-compliant format, so we can trust the integrity of information that is stored in Laserfiche."
In 2019, Shufro Rose opened 189 new accounts via this revamped account opening process. The firm also executed money movement transactions using Laserfiche, completing approximately 10,000 journal, wires, EFT and check disbursement transactions in the same year.
"In any financial organization, executing client requests and operational processes accurately, swiftly, securely, within compliance guardrails, and fully documented, is a non-negotiable function. Laserfiche has enabled us to systematically navigate each process through appropriate steps and supervisory/compliance approvals based on the uniqueness of each scenario. We've built automated processes that take much of that administrative and compliance burden off individuals so that they can spend more time serving clients."

-Vibhaw Arya, Chief Operating Officer at Shufro, Rose, & Co.
Maintaining Business as Usual as the World Changes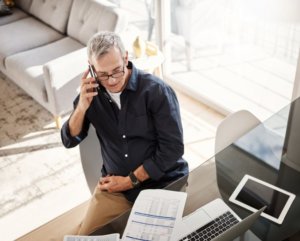 Shifting to digital operations and automated processes are core to Shufro Rose's strategic vision of operating as a virtual firm. This virtualization approach has provided a dual benefit of serving as the firm's business continuity plan. Shufro Rose conducts an annual business continuity plan test, the most recent of which took place in Q4 2019. Arya noted that that the firm's BCP process is to essentially leverage the same technology solutions and automated processes from any location outside of the firm's office.
Shufro Rose's technology infrastructure and digital strategy were truly put to the test when COVID-19 arrived in New York, forcing the firm to quickly transition employees to work from home. "A couple of days before it was required, we gave our employees the option to work from home," Arya said. "The transition was relatively seamless. Then on March 16, the entire firm went remote."
Since then, the firm has been able to maintain business as usual, through a volatile stock market, and has even onboarded new clients and opened multiple new accounts.
"Our primary focus is maintaining normalcy and conducting business as usual," said Arya. "Amidst the COVID-19 outbreak, numerous clients have contacted us to review their beneficiaries on their accounts and ensure that their financial affairs are up-to-date. Shufro Rose has fully leveraged Laserfiche in this effort of servicing clients on these requests."
From a management perspective, Arya explained that Laserfiche gives him the ability to monitor the execution processes, which enhances accountability firm-wide. "Every process is tracked and timestamped," he said. "If a client urgently needs money, we can make sure that the request is completed quickly; if someone is out sick or in a meeting when the request comes through, we can immediately assign the task to another resource to keep things moving along. Laserfiche allows us to be vigilant and gives us the information that we need to make sure business keeps moving."
Remote Access to Critical Documents
Business Process Automation
100+ Workflow Templates
Easy-to-Build Electronic Forms
Robotic Process Automation
AI-Powered Smart Invoice Capture
Built-in Scanning Tools
And Much More!
About Shufro, Rose, & Co.
Shufro, Rose & Co., as of December 31, 2018, manages over $1.5 billion in Assets Under Management (AUM) for approximately 2,600 accounts associated with approximately 1,200 households, and has been helping generations of families and individuals build and manage their wealth for over 80 years.
About Laserfiche
Laserfiche is the leading global provider of intelligent content management and business process automation. Through powerful workflows, electronic forms, document management, and analytics, the Laserfiche® platform eliminates manual processes and automates repetitive tasks, accelerating how business gets done.
Laserfiche pioneered the paperless office with enterprise content management more than 30 years ago. Today, Laserfiche is innovating with cloud, machine learning, and AI to enable organizations in more than 80 countries to transform into digital businesses. Customers in every industry—including government, education, financial services, and manufacturing—use Laserfiche to boost productivity, scale their business, and deliver digital-first customer experiences.
Laserfiche employees in offices around the world are committed to the company's vision of empowering customers and inspiring people to reimagine how technology can transform lives.
Try Laserfiche Cloud Free for 3 Months!
About Accelerated Information Systems
Accelerated Information Systems (AIS) is an award-winning professional services firm focused on solving business challenges with software solutions. AIS provides expert guidance, utilizing industry expertise and a strong technical skill set to design, implement, and support enterprise solutions.
AIS provides a full suite of professional services including consulting, solution design, implementation, technical support, data conversion, system integration, training, and project management.
Clients of AIS include State and Local Government, Colleges and Universities, Financial Services (Wealth Management, Investment Advisors, Broker-Dealers), Manufacturers, Not-for-Profit Organizations, TV and Media, and Multi-National Non-Governmental Organizations.
Founded in 2005, AIS is headquartered in New York and is also certified in multiple other states as a Minority Business Enterprise (MBE) and a Disadvantaged Business Enterprise (DBE). In addition to their status as a Platinum Certified Laserfiche Solution Provider and the 2019 Laserfiche Cloud Solution Provider of the Year, AIS is a Microsoft Cloud Silver Certified Partner.