CATIC is a Connecticut-based title insurance company with more than 50 years in business providing the highest-quality professional services to its policy-issuing attorneys, insured lenders and homebuyers, and other members of the real estate community.  With people's biggest investments in their hands, CATIC must have streamlined, secured, easy-to-use services for their clients.
CATIC's Story
CATIC began their relationship with Accelerated over ten years ago while looking for a new platform that would help streamline, digitize, and transform the way they managed paper and manual processes. Through close cooperation between Accelerated and the CATIC team led by Senior Operations Analyst, Chris Cooper, they designed a fully-integrated system encompassing CATIC's records management, process automation, and workflow needs.
The first step in CATIC's journey was to migrate from their previous OnBase solution to Laserfiche. Laserfiche's all-in-one document management and process automation capabilities along with its limitless scalability and customization made it the perfect platform for CATIC to build its information management hub. Once CATIC's existing records and documents were moved into Laserfiche, Accelerated began the next step of their transformation journey, workflow automation.
Before implementing Laserfiche, all of CATIC's business processes were manual and used a lot of paper. Using Laserfiche QuickFields, Accelerated designed a workflow for CATIC's CATICTrac service which tracks, obtains, and records the appropriate documents needed to clear liens. Instead of clients submitting paper-based forms to CATIC for manual routing and processing, the automated CATICTrac process starts with the client submitting an electronic form which is automatically processed and routed to the appropriate stakeholders for review and approval. Stakeholders are also reminded along the way if their task is outstanding for too long or is missing necessary information.
After the success of automating CATICTrac, CATIC was ready to automate more processes. They began using Laserfiche Forms, the robust electronic forms platform that works seamlessly with the documents and information stored within the Laserfiche repository. With Laserfiche Forms, CATIC could begin moving away from batch processing and toward real-time processing allowing them to now process tens of thousands of forms a day.
One Platform, Endless Uses
Internally, CATIC uses Laserfiche to automate countless business processes including their Annual Code and Conduct Acknowledgement process. Employees are now notified that they have the Acknowledgement task assigned to them with automated reminders to keep them on track. Relevant staff can see where each employee is in the process so they can identify bottlenecks and issues. Having the Code and Conduct Acknowledgement process automated has not only helped reduce wasted operational time, but it also ensures each employee has read and is aware of CATIC's internal policies and benefits.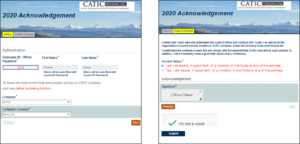 When working with external stakeholders, Laserfiche has also helped speed along client processes like starting the claims process. What once was a 27-step process with a 2-day turnaround time for clients, is now completed and returned to the customer within a single day and now only has 11 steps with the power of Laserfiche. The old process was paper-based and slowed by manual tasks but is now quick and efficient with far less steps for external stakeholders as well as CATIC employees.
"If there's a problem, Laserfiche can fix it."

-Chris Cooper, Senior Operations Manager at CATIC
Project LOL – A Central Platform for Continuous Improvement
At the head of CATIC's Laserfiche initiative is Senior Operations analyst, Chris Cooper.  Since the initial conversion, Cooper has continued to introduce new initiatives to create a completely customized solution that meets CATIC's expanding needs.  Cooper has been on the forefront of continuous improvement for years.  He holds the Continuous Improvement [LEAN] Champion Certification (CICC) from CONNSTEP,  which provides business professionals comprehensive exposure to the principles and practices they need to create and sustain a LEAN Enterprise.
A LEAN Enterprise focuses on eliminating waste while continuously improving the key processes that put customer value first while  also increasing capacity.  To accomplish this, LEAN thinking changes the focus of management from optimizing separate technologies, assets, and vertical departments to optimizing the flow of products and services through entire value streams that flow horizontally across technologies, assets, and departments to customers.
With Cooper's background in Organizational Leadership and certification in LEAN, he began thinking of ways he could bridge the knowledge he had with the technology at his disposal. Using Laserfiche Forms and workflow, Cooper structured a brand-new CATIC initiative called Project LOL or LEAN on Laserfiche.
Project LOL - LEAN on Laserfiche
Step One – Project Start
This form is completed with the preliminary information like the project's start date and the designated team with a project number autogenerated by Laserfiche.
Step Two – Project Charter
From there, the Project Charter form is filled in with project-specific goals and team-member roles while autogenerating the same project number from the Project Start form.
Step Three – Current State
After this initial information is gathered, the process moves to the Current State form, which describes the state of the project before improvement. A value stream map, which uses a flowchart to illustrate, analyze and improve the steps required to deliver a product or service, is created and saved with the project to determine which process will be the initial focus.
Step Four – LEAN Tools
The LEAN Tools form, which works like a toolbox for team members to select and use the LEAN tool(s) necessary for the project.
Step Five – Future State
The next step is the Future State form showing the intended end-state metrics of the project after improvement. This form also highlights the action items necessary to move to a future state, their impact on the project, whether or not such items are easy to implement, and if they will be in scope.
Step Six – Implementation
The Implementation form is completed with testing dates, launch dates, and user acceptance dates.
Step Seven – Project Completion
The final step is the Project Completion form which recaps the metrics of the project from start to finish, quantification of the savings the project yielded, and information on how the process was improved. There is also a section for lessons learned to be applied to future projects.
The golden rule of LEAN is standardization. Using Laserfiche has turned the entire LEAN process into an assembly line. Every piece of the process moves on its own with automated routing and notifications which helps reduce the time spent on status updates and bottlenecks. Project supervisors can easily identify what stage of the process team members are working on and estimate how long a project will take. Laserfiche also takes the guesswork out of what part of the project to tackle first; tasks are weighted depending on the scale and the level of impact with lower-scale, higher impact tasks being assigned first delivering quick wins and boosting team morale.
Improved Services and Savings
Since implementing Project LOL in the Records Management, Claims, Compliance, and CATICTrac departments, Laserfiche has helped save employee time as well as company dollars. 
By eliminating wasted resources like payroll, processing time, paper, and toner, CATIC's Records Management and Claims departments projects a savings of $260,000 annually.
In addition to monetary savings, client-facing processing time has also been drastically reduced. Prior to Laserfiche, it would take 11 days and 9 steps for a policy to come in and be fully processed with only 8.5 minutes of physical work. Now, policies take 6 days and 4 steps from intake to be completely processed, with the amount of manual work time cut to 6.5 minutes. 
Looking Forward
While Cooper and the CATIC team have made huge strides using Laserfiche's built-in workflow capabilities, they plan to do even more with Robotic Process Automation, or RPA.  RPA boosts efficiency by using bots to complete repetitive tasks such as updating repository information from a third-party database that staff members previously had to do manually.  RPA saves staff time, increases data accuracy, and helps close integration gaps between legacy and modern systems.
Using Project LOL and RPA in the policy creation process, CATIC is projected to increase the savings to $2.2 million annually and reduce process times to 3 minutes for a policy and 5 minutes for a claim. 
Try Laserfiche Cloud for 3 Months, FREE!
Remote Access to Critical Documents
Business Process Automation
100+ Workflow Templates
Easy-to-Build Electronic Forms
Robotic Process Automation
AI-Powered Smart Invoice Capture
Built-in Scanning Tools
And Much More!
About Accelerated Information Systems
Accelerated Information Systems (AIS) is an award-winning professional services firm focused on solving business challenges with software solutions. AIS provides expert guidance, utilizing industry expertise and a strong technical skill set to design, implement, and support enterprise solutions.
AIS provides a full suite of professional services including consulting, solution design, implementation, technical support, data conversion, system integration, training, and project management.
Clients of AIS include State and Local Government, Colleges and Universities, Financial Services (Wealth Management, Investment Advisors, Broker-Dealers), Manufacturers, Not-for-Profit Organizations, TV and Media, and Multi-National Non-Governmental Organizations.
Founded in 2005, AIS is headquartered in New York and is also certified in multiple other states as a Minority Business Enterprise (MBE) and a Disadvantaged Business Enterprise (DBE). In addition to their status as a Platinum Certified Laserfiche Solution Provider and the 2019 Laserfiche Cloud Solution Provider of the Year, AIS is a Microsoft Cloud Silver Certified Partner.