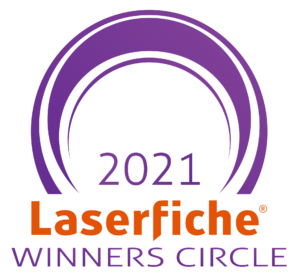 HICKSVILLE, NEW YORK – March 1, 2021, Laserfiche — the leading SaaS provider of intelligent content management and business process automation — is pleased to announce that Accelerated Information Systems has been named a Laserfiche Winners Circle Achiever in recognition of its outstanding sales in 2020.

"Facing unprecedented challenges during the COVID-19 pandemic, this year's Winners Circle achievers have gone above and beyond to rapidly deploy solutions that enable remote collaboration, business continuity and online access to information and processes," said Hedy Belttary, senior vice president of sales at Laserfiche. "At the same time, our Winners Circle solution providers are guiding their customers through the enterprise-wide digital transformation that will position them for long-term success. Congratulations!"
Despite a challenging year, the Accelerated team has risen to the new challenges of the post-pandemic world.  With their headquarters located just outside of New York City, the original epicenter of the COVID-19 outbreak in the US, Accelerated leadership needed to make quick decisions to keep their staff safe while simultaneously helping their clients manage their own remote-work transitions.  Thanks to Laserfiche's ability to facilitate remote work and productivity, the Accelerated team never had to go offline.
While other organizations were scrambling, Accelerated was working with their clients to improve existing and implement new processes vital to remote work and learning success. Two such clients were recognized as 2020 Run Smarter Award winners for their technology-driven solutions to these unprecedented circumstances. Metropolitan St. Louis Sewer District (MSD), one of America's largest sewer districts, was recognized as a winner in the Business Impact category for their cloud-first approach to local government. Their online public portal allows constituent access to public documents without leaving home. The Regional Choice winner for North America was none other than AIS client CATIC, with their 2nd Run Smarter Award win! CATIC's continuous improvement process, Project LOL, or Lean on Laserfiche, has helped CATIC improve their business processes even while working remotely.
"I would like to congratulate the entire team at AIS for their achievement. This year was filled with challenges both personal and professional, and our team rose to the challenge, providing outstanding support to our customers who were dealing with the same challenges posed by the global pandemic. It is a testament to the work ethic, camaraderie, and team ethos that we were able to continue our work without missing a beat."

– Zaheer Master – President, Accelerated Information Systems
Since 1999, the Laserfiche Winners Circle has recognized top-selling achievers within the Laserfiche solution provider community. The 2020 Winners Circle achievers were recognized at Laserfiche Empower on Feb. 22, 2021.
About Accelerated Information Systems
Accelerated Information Systems (AIS) is an award-winning professional services firm focused on solving business challenges with software solutions. AIS provides expert guidance, utilizing industry expertise and a strong technical skill set to design, implement, and support enterprise solutions.
AIS provides a full suite of professional services including consulting, solution design, implementation, technical support, data conversion, system integration, training, and project management.
Clients of AIS include State and Local Government, Colleges and Universities, Financial Services (Wealth Management, Investment Advisors, Broker-Dealers), Manufacturers, Not-for-Profit Organizations, TV and Media, and Multi-National Non-Governmental Organizations.
Founded in 2005, AIS is headquartered in New York and is also certified in multiple other states as a Minority Business Enterprise (MBE) and a Disadvantaged Business Enterprise (DBE). In addition to their status as a Platinum Certified Laserfiche Solution Provider and the 2019 Laserfiche Cloud Solution Provider of the Year, AIS is a Microsoft Cloud Silver Certified Partner.
About Laserfiche
Laserfiche is the leading global provider of intelligent content management and business process automation. Through powerful workflows, electronic forms, document management, and analytics, the Laserfiche® platform eliminates manual processes and automates repetitive tasks, accelerating how business gets done.
Laserfiche pioneered the paperless office with enterprise content management more than 30 years ago. Today, Laserfiche is innovating with cloud, machine learning, and AI to enable organizations in more than 80 countries to transform into digital businesses. Customers in every industry—including government, education, financial services, and manufacturing—use Laserfiche to boost productivity, scale their business, and deliver digital-first customer experiences.
Laserfiche employees in offices around the world are committed to the company's vision of empowering customers and inspiring people to reimagine how technology can transform lives.