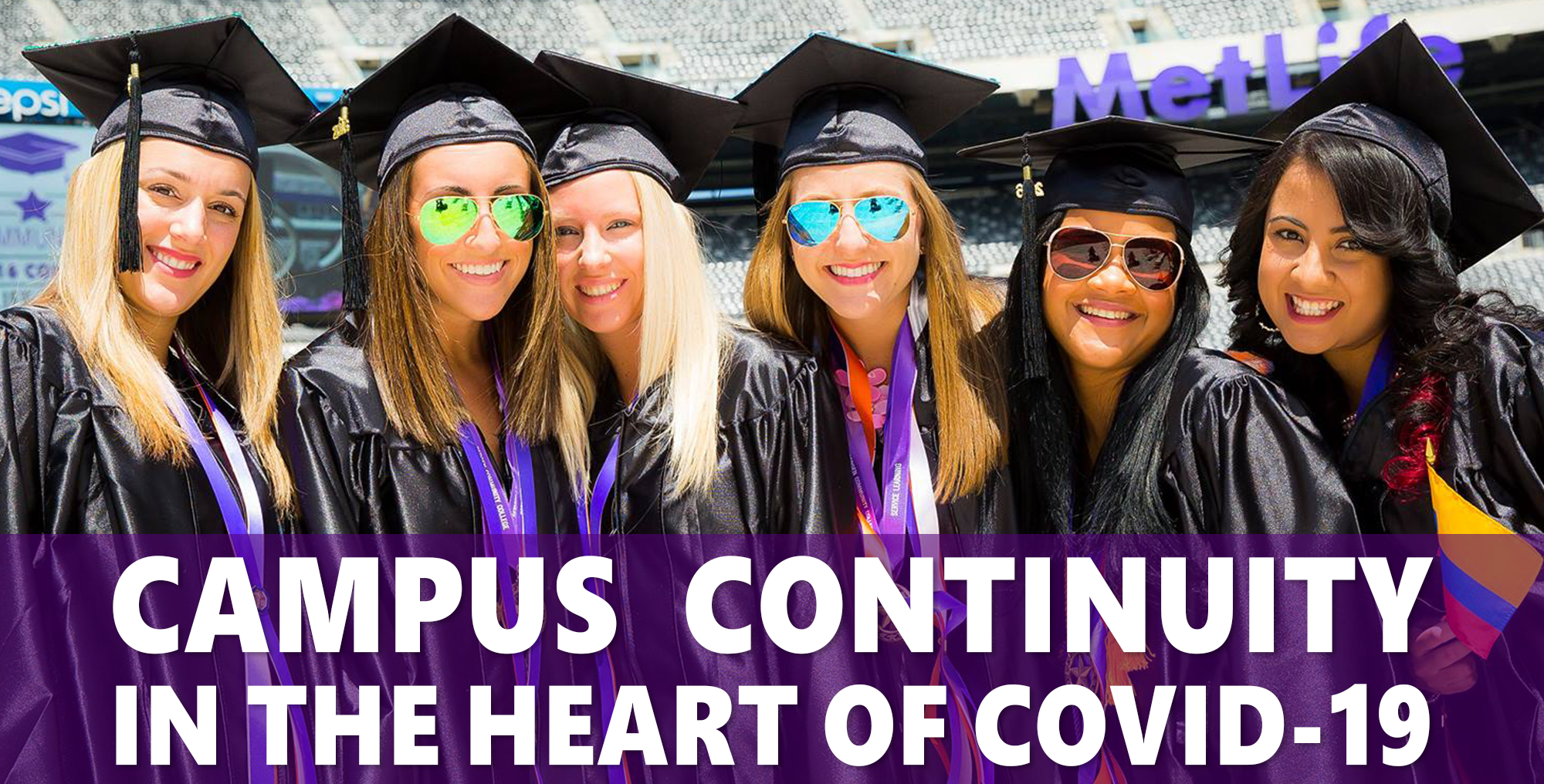 No industry has been immune from the impact of COVID-19; even students looking to finish out their spring semesters are finding a new normal in the commute to the couch rather than the classroom. New Jersey's largest community college, Bergen Community College, was one of the many schools across the country tasked with transitioning their entire campus community to a remote work system, but unlike many others left scrambling, Bergen was able to seamlessly transition their staff to remote work while continuing to offer the same on-campus administrative services students need thanks to Laserfiche.
Long before the COVID-19 pandemic changed the world, Bergen Community College saw a growing need to move beyond the physical campus. Their community of over 32,000 students is a dynamic mix including parents, people with full-time jobs, as well as traditional students, but there was a common thread – having to go to campus to complete simple tasks like submitting forms was getting in the way of their education. Bergen Community College chose Laserfiche for their process management, electronic forms, and document management capabilities with the goal of making their students' lives easier, but what they didn't realize was they were also implementing their ultimate disaster preparedness plan.
Students are at the center of any college community, but without the behind-the-scenes administrative staff, students wouldn't have access to many of the services they need to complete their education. These integral staff members need access to countless documents and paper-heavy manual processes, which may sound impossible while working remotely, but not for Bergen. Students can submit electronic forms which are intelligently routed to the correct staff member who can then easily access all their important documents in the digital Laserfiche repository.
One process improving students' lives is in the testing department. This process streamlines the steps for students to bypass the requirement for a placement exam to enroll in certain classes if they met specific criteria (such as a previously earned degree in that particular field).
"A significant amount of our student population uses this process. It was a good process to automate since the improvement has a high impact."

–Nishika Gupta, Managing Director, Records & Information Mgmt.
Rather than require students to physically retrieve paper forms from the testing department and attach paper documents to prove that they have met the criteria, students can now submit documentation in just a matter of seconds from wherever they are, and without dealing with cumbersome paperwork.
Bergen also used Laserfiche to digitize the grade change process, which now lives online through a digital form. Off-site faculty can easily access and amend students' grades without delay. In addition, Laserfiche enables staff members to track faculty turnaround time and send reminders as needed, all while simultaneously keeping students updated. Beyond keeping things moving for their students, digitizing their office has allowed many of their part-time staff members to easily work from home which would have been almost impossible without Laserfiche.
Responding to a Pandemic
"Without Laserfiche, moving to remote would have been a nightmare."

For Nishika Gupta, Managing Director, Records & Information Management at Bergen Community College, having Laserfiche has been the difference between this transition going smoothly and being detrimental to the college. Having Laserfiche means COVID-19 has not affected the behind-the-scenes process automation that moves tasks through the administrative team's pipeline, meaning less impact on students. These time-saving automated workflows have allowed the college to worry less about whether tasks are being completed, and more about keeping their students, faculty, and staff safe.
"As a whole, our organization's goal is to 'Reimagine Bergen.' For my department, this means reimagining how we use technology and reimagining the student experience. To support this, we are dedicated to implementing solutions that our students are comfortable using. Millennials use technology in every aspect of their lives. For that reason, it's important for us to leverage technology that expedites student-facing processes in order to meet their expectations."

–Nishika Gupta, Managing Director, Records & Information Mgmt.
Since going remote, Gupta has even been able to implement new processes for the college. Starting in the spring of 2020, the Bergen team was responsible for distributing emergency financial aid grants to students as part of the Coronavirus Aid, Relief and Economic Security (CARES) Act Higher Education Emergency Relief Fund (HEERF). In order to streamline and simplify the application, the college created a online-accessible Laserfiche form which outlined criteria for student needs and asked for student permission to apply funds to the student's tuition, or gave students the option to receive funds directly — a specific compliance requirement for HEERF.

Using a Laserfiche form also enabled students to check the status of their request online and removed hurdles that otherwise may have existed with a more manual, paper-driven process. By the fall of 2021, the college had received 13,000 forms submissions through the electronic process that streamlined the delivery of three rounds of HEERF grant money to students in need.

In addition to funding for students, as part of HEERF, higher education institutions are also granted funds for operational needs. In order to determine how the college would use the operational dollars, Bergen is also utilizing a Laserfiche form to collect feedback and receive proposals from internal stakeholders. The form centralizes information while also standardizing how it is captured, and tracking any reviews and approvals. As with all financial decisions, the organization aims to ensure that all processes and outcomes are easily reviewed in the case of an audit.

As the college looks to the next school year, Bergen has been navigating vaccine guidelines using process automation as well. "We've put together a process in which we share a URL with employees that they can use to log in using their credential and complete a form," Gupta explains. The form enables employees to indicate their vaccine status and upload supporting documents, such as a vaccine card. "It goes to our office of health services staff, who look at the submissions and then have a few different options based on whether the employee is fully vaccinated, partially vaccinated, unvaccinated, or the information could not be processed because for instance, the vaccine card was not legible, or the birth date doesn't match what we have on file."

In the case that an employee's form could not be processed, health services staff can indicate why, then the employee is emailed with the reasoning and can resubmit. If the employee is fully vaccinated, the information is saved in the repository and the employee is sent a confirmation. Unvaccinated employees, however, are notified that they must upload a COVID test result. Every seven days, the employee will receive this notification to upload their test results. Finally, partially vaccinated employees are asked the date of their next vaccine and are reminded a couple days beforehand to upload their second vaccine details.

The complex process is simplified through Laserfiche Forms and the automated process, allowing Bergen to easily capture and organize information, and send out notifications. Additionally, the Laserfiche process supports the college's HIPAA compliance by saving the information in a repository that can only be accessed by the office of health services. Bergen has not mandated COVID-19 vaccinations for students, however, Gupta notes that the college can take the existing process that was created for staff and repurpose it for students.

Meanwhile, as part of its commitment to a healthy and safe campus, Bergen recently launched the "Become A Bergen VIP" incentive program. The program enabled students enrolled for the fall 2021 semester to "Get a Shot, Earn a Shot at $1,000" — meaning new or continuing students who have received vaccination against COVID-19 could apply to win one of five $1,000 tuition credits. Using a Laserfiche form, the college collected applications for the program, and winners were announced via a live YouTube stream.

Looking Ahead
Laserfiche has been foundational for process improvement at Bergen Community College for years, but they never imagined it would become a fundamental element of their transition to remote work. The impact of COVID-19 has been felt by everyone, but for the Bergen Community College staff and students, many tasks that would have been almost impossible to complete remotely never missed a beat. Through simplifying life with Laserfiche Bergen has mitigated major disruption to their students' lives while combatting the COVID-19 crisis.

With its strategic plan in place, Bergen Community College continues to pursue the vision to "Reimagine Bergen." This includes simplifying processes to support a one-stop-shop experience for students, increasing effectiveness of personnel, and retaining the student-centric focus.

The college continues to digitize and automate content-centric processes across campus, focusing on high-impact initiatives, such as integrating Laserfiche with other core technologies including the college's ERP and helpdesk systems; and leveraging Laserfiche's reporting and analytics tools to help optimize processes and build and inform campus policies.
Everyone is happy with our Laserfiche solution, especially our students," says Gupta. "The transparency and collaboration that the system provides has been well received, and we look forward to expanding our use throughout the college.
"Laserfiche was a great fit for Bergen Community College's needs since it enabled students to better manage their academic progress. Bergen Community College's innovative use of technology demonstrates a commitment to its students and its vision. The college turned a search for a new system into an opportunity to enhance the student experience."

–Zaheer Master, President of Accelerated Information Systems, the Solution Provider that implemented Laserfiche at Bergen
Try Laserfiche Cloud for 3 Months, FREE!
Remote Access to Critical Documents
Business Process Automation
100+ Workflow Templates
Easy-to-Build Electronic Forms
Robotic Process Automation
AI-Powered Smart Invoice Capture
Built-in Scanning Tools
And Much More!
About Accelerated Information Systems
Accelerated Information Systems (AIS) is an award-winning professional services firm focused on solving business challenges with software solutions. AIS provides expert guidance, utilizing industry expertise and a strong technical skill set to design, implement, and support enterprise solutions.
AIS provides a full suite of professional services including consulting, solution design, implementation, technical support, data conversion, system integration, training, and project management.
Clients of AIS include State and Local Government, Colleges and Universities, Financial Services (Wealth Management, Investment Advisors, Broker-Dealers), Manufacturers, Not-for-Profit Organizations, TV and Media, and Multi-National Non-Governmental Organizations.
Founded in 2005, AIS is headquartered in New York and is also certified in multiple other states as a Minority Business Enterprise (MBE) and a Disadvantaged Business Enterprise (DBE). In addition to their status as a Platinum Certified Laserfiche Solution Provider and the 2019 Laserfiche Cloud Solution Provider of the Year, AIS is a Microsoft Cloud Silver Certified Partner.